Insuring Your Home in Minnesota
Mortgage lenders typically require homeowners insurance, and it's almost always a wise investment. We make it easy to get a quote. But first — learn more about the types of coverage that a standard policy includes.
Types of Homeowners Coverage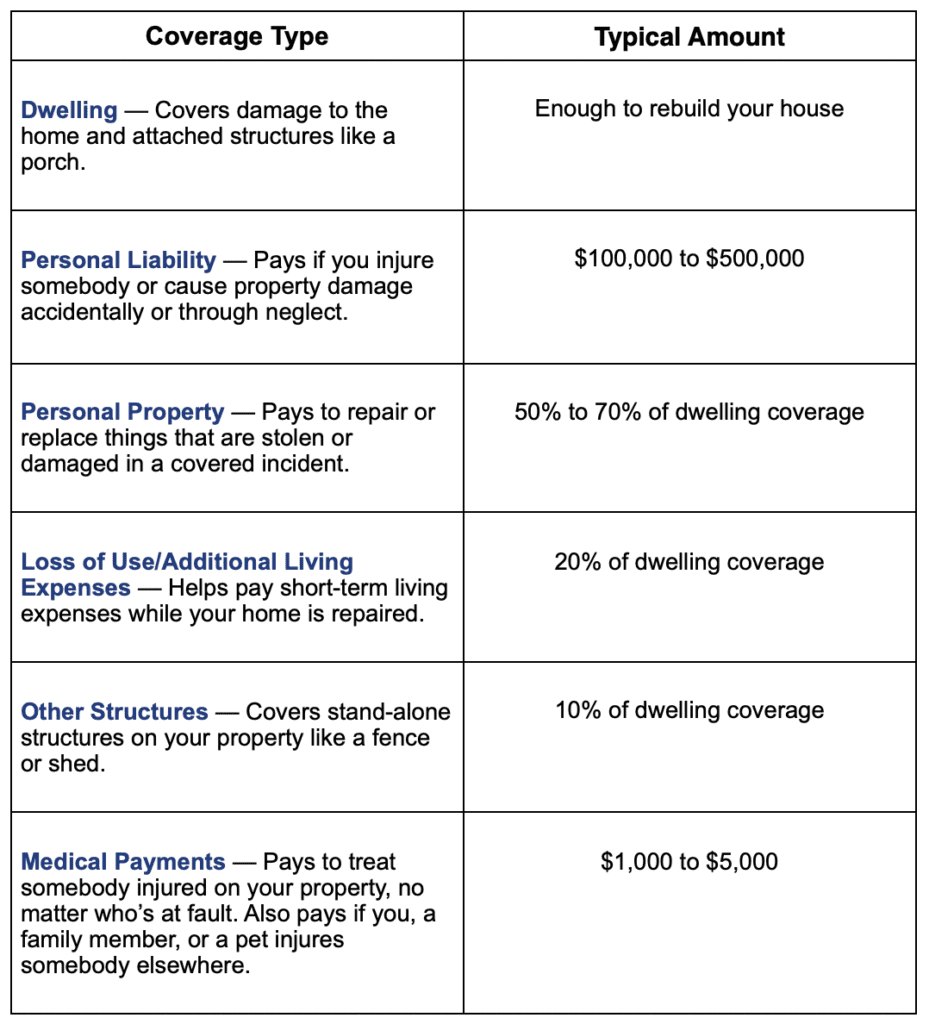 Other home insurance coverages include floods and exclusions. Read more below.
Did you know? There's nearly a 1 in 4 chance that you'll experience a flood during your 30-year mortgage period. That's why it's critical to understand flood insurance.
Flood insurance is relatively comprehensive and covers many damages caused by a flood — both inside and outside your home. This includes the bones of your home, like the foundation, heating, electrical systems, fuel tanks, etc. It also includes more decorative items, like appliances, windows, carpet, blinds, and garages. Essentially, if your home is damaged by a flood, flood insurance covers the damage.
Call us today to sign up.

Book A FREE Appointment TODAY!
Homeowners insurance comes in many types, called policy forms. Some types offer more extended coverage than others — depending on the homeowner's needs and the type of residence covered.
While the details can vary by state and company, these types are rather standard.
HO-3 Insurance
Also called special form policies, these are the most popular. If you have a mortgage, your lender will likely require this level of coverage (at minimum).
HO-3 insurance policies typically cover damage to your home — caused by anything — except what the policy rules out, like an earthquake or flood. But in regard to your belongings, this type of policy covers only damage from these named perils, unless you purchase extra coverage:
Riots
Theft
Smoke
Vandalism
Explosions
Falling objects
Fire or lightning
Windstorms and hail
Damage from aircraft
Damage caused by vehicles
Weight of ice, snow, and sleet
Sudden damage from a power surge
Water overflow or discharge from plumbing, AC, and appliances
Freezing of the above household systems
Sudden tearing, cracking, or bulging of a hot water, steam, AC, or fire protection system.
HO-5 Insurance
An HO-5 policy provides the broadest homeowners coverage. It pays for damage caused by anything except the ones excluded in the policy (by name). This insurance policy is far less common than the HO-3, as it's usually available only for well-kept homes in low-risk areas. Plus, not all insurance companies offer it.
Sometimes HO-5 policies are called comprehensive form or premier coverage. If you're looking for HO-5 coverage, ask your insurance agent or rep. 
HO-1 and HO-2 Insurance
Even less popular are HO-1 and HO-2 home insurance. These policies only pay out for damage caused by problems listed in the policy. HO-2 insurance is the more common of the two — usually covering your house and belongings, but only for the causes we listed above.  
HO-1 isn't widely available. It's the most basic, no-frills, kind of homeowners insurance, covering losses from a shorter list of perils than the HO-2 insurance.
Other Policy Types
Other policy types include:
HO-4 insurance for renters
HO-6 for condominium owners
HO-7 for mobile homes
HO-8 for older homes (limited coverage provided).
Work with a Local Homeowners Agent
The best way to get homeowners quotes is to speak to an independent broker who understands the industry. At All Things Insurance, we deal with many home insurance companies in Minnesota. Not only do we get you quick quotes, but we also provide fast, friendly service from start to finish. Call (763) 645-5450.
We serve all of MN, including communities like Minneapolis, Saint Paul, Rochester, Bloomington, Duluth, Victoria, North Oaks, Minnetrista, Medina, Waconia, and Chanhassen.