Auto Insurance Policies in Minnesota
This is protection that's built for you.
Whether it's camping in the summer or ice fishing in the winter, Minnesota features some of the best outdoor leisure activities. The states' unofficial nickname is the Land of 10,000 Lakes! No matter where you're going, you can be assured on the road with solid protection from All Things Insurance.
What Coverage Do You Need?
Where you live dictates the car insurance coverage levels you need. Certain coverages are required by Minnesota law, and this law sets minimum limits that every driver must buy.
But you may be able to expand your coverage by choosing higher limits. We'll explain more about what is required in Minnesota. You can also contact Quin at All Things Insurance to get more info on the right car insurance for you.
Types of Coverage and Requirements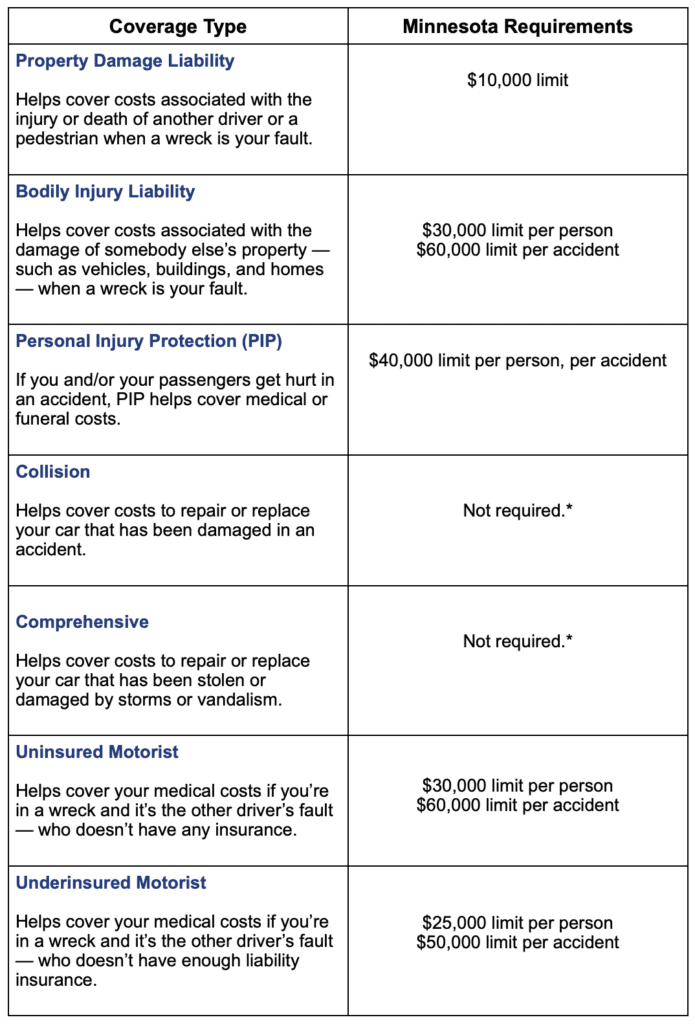 All coverages are controlled by the limits declared in your policy.
*If you're leasing or financing your vehicle, your lender may require you to have this coverage.
How to Compare Auto Insurance Quotes
To accurately compare car insurance quotes from different companies, you'll want to choose the same coverages, limits, and deductibles for every quote.
Choose your coverage. Consider Minnesota's requirements and any certain types of coverage you may want, such as collision or comprehensive. 
Consider your limits. State laws matter, but so do your personal needs.
Pick your deductible. Coverage may come with a deductible — the amount you will pay toward a claim.

 

Book A FREE Appointment TODAY!
Additional Types of Coverage
Roadside Assistance Services
Personal Umbrella Policy
Rental Reimbursement Coverage
Sound System Insurance
Ask us what additional coverage and discounts may be available to you. 
We'll Help You Get the Right Auto Insurance
At All Things Insurance, we protect our clients just like we protect our own families. Contact us in Otsego, MN, to learn more about the right car insurance for you.
We serve all of Minnesota, including communities like Saint Paul, Bloomington, Victoria, North Oaks, Minnetrista, Medina, Waconia, and Chanhassen.